Ski poles are used by us to support forward movement, control balance, guide change of direction, and support the body when skiing. In addition to ski jumping, aerial skiing, and snowboarding, ski poles are used in other events, which is an indispensable tool for skiers to control the center of gravity.
We should choose the principle of light weight, not easy to break, good balance, and suitable for our height. Generally, it starts from the snow-blocking wheel, and the longest is no less than the shoulder, and the shortest is not less than the lower limit. You may pass the leather bracelet and wave your hand with the stick, which is better. Generally divided into alpine poles, cross-country poles and free skiing ballet poles. Generally, the length of the ski pole is selected based on the height of my elbow from the ground after the arm sags. Beginners can choose a longer ski pole, and after the technology improves, choose a shorter ski pole. Generally, the length of ski poles is 90-125cm.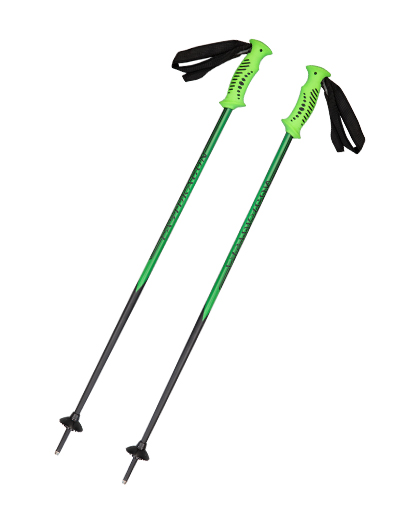 Ski poles must be worn, it can be put on the wrist to prevent falling off. The snow wheel prevents the ski poles from being inserted too deep in the snow, giving the skier a stable fulcrum at the moment of high-speed gliding.
Straight poles are mostly used for skiing. Carbon fiber composite micro-rods are used on the poles. The texture is lighter. The use of straight poles in high-speed skiing can experience the pleasure; the curved poles in skiing are caused by the straight poles bending , The ski bender is more elastic and easier to use.
The thing you hold in your ski is called a ski pole. Normally, there are two ski poles, one for each left and right hand. The light texture of ski poles is one of the essential tools in skiing.
Most of the skis are mainly straight poles, and the material is mostly made of carbon fiber composites as the rod body, which can ensure that the force is bent without breaking. It is a good auxiliary equipment in skiing. The bottom of the ski poles has a metal tip to prevent slip In addition, it is also equipped with a small boot-like shock-absorbing head, which can reduce shock during strong impact.
The ski pole is caused by the straight pole bending, which shows how good the elasticity of the ski pole, the stronger the elasticity of the ski pole, the more labor-saving to use.